Off-Road Stats
---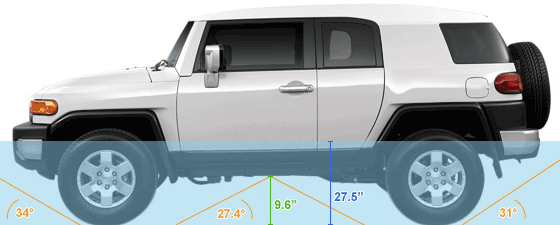 FJ Cruiser Google News



The Vintage FJ Cruiser Frame-Off Restoration ProcessQ Costa Rica News

From the

FJ

blog we learn that the Toyota FJ25 came around in the early 1950s, establishing Toyota as a global brand. Appropriately, the

FJ

Land

Cruiser

formed the backbone of the Toyota brand and became the emissary of Japanese engineering and much ...

and more »

Louisiana Sportsman



2007 FJ cruiserLouisiana Sportsman

Has a $5,000 dollar matt black vinyl wrap done by wrapture graphics here in Baton Rouge wrap is not even a year old . Has 35'swith 22 inch rims (5) custom black and red leather that I put in 9 months ago along with a touch screen radio and a smitty

...

NSEAVoice.com



2019 Ford Bronco Raises Prospects For Toyota FJ CruiserNSEAVoice.com

We know what you're thinking – why Toyota

FJ Cruiser

? The 4×4 tailored SUV from Toyota never managed to find success in its active years and this has led to it facing the axe a couple of years ago. Well, despite its disappearance, Toyota is now heavily ...

NSEAVoice.com



Toyota FJ Cruiser May Return If Ford Bronco SucceedsNSEAVoice.com

The Wrangler had to fend off little competition from less popular vehicles, namely the Toyota

FJ Cruiser

. The latter may have a respectable appearance but its poor performance forced Toyota to pull the vehicle out of the market. As such, the next-gen

...

Drive



Toyota's camper van for millenialsDrive

If you like extreme off-roading, meticulously-planned adventures and going places only a serious four-wheel-drive can tackle... this isn't the car for you. Toyota is targeting a new subset of SUV customers with the FT-4X, a spiritual successor to the

...

Automotive News (subscription) (blog)



When Christina met rallyAutomotive News (subscription) (blog)

It was just enjoyable to do things in the car [an

FJ Cruiser

]. She didn't get scared when I'd push it and have some fun and go over jumps. Christina: I didn't get car sick. Ryan: She didn't get car sick, which is a super-important thing. And then

...

Jalopnik



This Is Why Everyone Wants An FJ40 Toyota Land CruiserJalopnik

By so many standards, the FJ40 Land

Cruiser

is the definitive 20th century 4x4. With an international pedigree like a Land Rover, the rugged simplicity of a Jeep and swagger like an old Bronco, the

FJ

is a greatest hits album of classic trucks. Fun to

...
---

This site is not affiliated with Toyota Motor Sales, U.S.A., Inc.
Information is provided 'as is' and could contain inaccuracies, omissions or errors.
with any additions, updates, or corrections to this information.